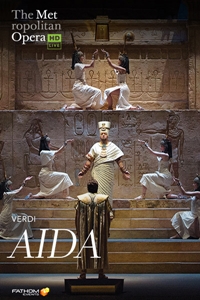 MPAA Rating:
NR
Synopses:
The Met's unforgettable production of Verdi's ancient Egyptian drama stars Liudmyla Monastyrska and Hui He. They share the title role of the enslaved Ethiopian princess caught in a love triangle with the heroic Radamès, played by Marco Berti and Roberto Alagna, and the proud Egyptian princess Amneris, sung by Dolora Zajick and Olga Borodina. Fabio Luisi conducts this revival, which features recent choreography by Alexei Ratmansky.
Cast:
Liudmyla Monastyrska, Roberto Alagna, Olga Borodina
Director:
Fabio Luisi, Sonja Frisell
Genre:
Program, Musical
Run Time:
4 hr. 0 mins.
Release Date:
December 15, 2012
OTHER LOCATIONS
No Times Available Click For Times
New Jersey





























New York City







Rockland





Long Island












Westchester











Pennsylvania