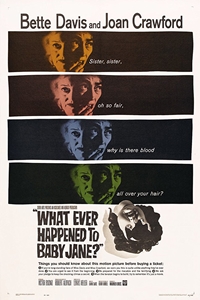 MPAA Rating:
NR
Synopses:
Two aging sisters - one a has-been child star, the other a Hollywood actress whose career was ruined when an accident left her in a wheelchair - share the same old, dilapitated mansion where the Davsis character, is slowly growing demented out of jealousy from the success her sister had.
Cast:
Bette Davis, Joan Crawford, Victor Buono
Director:
Robert Aldrich
Genre:
Drama, Suspense/Thriller, Horror
Run Time:
2 hr. 12 mins.
Release Date:
October 31, 1960
OTHER LOCATIONS
No Times Available Click For Times
New Jersey





























New York City







Rockland





Long Island












Westchester











Pennsylvania